Full Moon Tours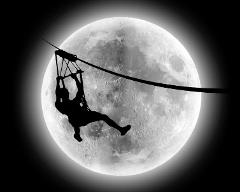 Duration : 3 Hours (approx.)
Product code : FULLMOON
Flightlinez Bootleg Canyon Full Moon Tours
Offered April - Oct
Soar down the ziplines under the full moon as your shadow dances on the desert floor. Offered the day before the full moon, the day of the full and the day after the full moon. Miners lights are provided but not necessary with the illumination provided by the glowing moon.
We do encourage you to have taken a daytime tour first.
~Full Moon Tours are offered April - Oct. Due to limited availability we request you call the office to book.


Friendly Reminders:
* Weight restrictions 75 - 250 lbs
* Tennis shoes / hiking shoes Required
* Sunglasses recommended
* Water is provided
* Gratuity is not included
* Complimentary pick up is available from the strip ONE HOUR PRIOR to your Scheduled tour time. This happen from the Excalibur in the back at the Rear Tour Bus Rotunda.
*Currently Injured and wearing a cast? You cannot participate with any type of cast on your leg or foot. This includes walking casts and walking boots. Please understand it is for your safety and the safety of our staff that if you have your arm, wrist or hand in a cast you will be tethered down by one of your landing guides. If you would like to zipline next to your group you will need to contact the office in advance to add an additional guide to your tour to tether you down at any point. The additional fee is $60.00