Zipline Tour - Locals Discount (ID REQUIRED)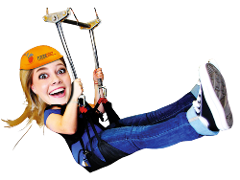 Duración : 180 Minutos (aproximadamente)
Código de producto : NVDISCOUNT
* Weight restriction: 75 - 250 lbs. Please be aware we are required to weigh each guest prior to participating in accordance with our insurance company.
*Transportation is not included with a local's ticket price. Transportation is offered to those guests not from Nevada who do not have transportation while they are in town. Thank you for understanding. ~ Flightlinez

The Flightlinez Bootleg Canyon course boasts over 1.5 miles of ziplines that span over four distinct runs. The distinct buzzing of the of the steel cables will fill your ears as you embrace the thrill of speed and the exhilaration of flight.
Along your journey you'll be captivated by the scenic desert landscape and vast blue skies. Wildlife sightings are common on the tours. The canyon is home to red-tail hawks, chuckwallas, big horn sheep, and more. Your knowledgeable guides, while ensuring your safety and comfort, will provide historical, geological, and ecological information, and make you laugh all at the same time.
Our zipline tour offers a unique experience that differs from others in that we use thicker cables and sophisticated trolleys. These upgrades provide guests with faster speeds and enhanced safety and comfort.
The experience can't be matched by anything else. Don't let the opportunity pass you by. Book today.
Friendly Reminders:
* Weight restrictions 75 - 250 lbs
* Tennis shoes / hiking shoes Required
* Sunglasses recommended
* Water is provided
* Gratuity is not included
* You are required to arrive at our office in Boulder City 30 minutes PRIOR to your scheduled tour time.

**Please call the office for more information on our military discount. Any discounts are ONLY valid on Day Time Tours.

*Currently Injured and wearing a cast? You cannot participate with any type of cast on your leg or foot. This includes walking casts and walking boots. Please understand it is for your safety and the safety of our staff that if you have your arm, wrist or hand in a cast you will be tethered down by one of your landing guides. If you would like to zipline next to your group you will need to contact the office in advance to add an additional guide to your tour to tether you down at any point. The additional fee is $60.00

If you are interested in adding onto your outdoor adventure experience make sure you check out the ATV add ons or Bullet & Burger options after you pick your date and time! We will try to accommodate both tours in one day, but this will be based on availability at both locations.